Archive for the 'Uncategorized' Category
1 month ago pumpkin, puree, recipe, Uncategorized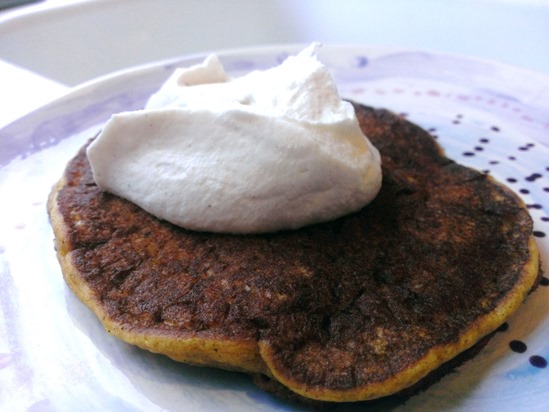 My seed collection from my Winter Luxury Pie pumpkin I purchased a few years back finally paid off and I was able to produce a couple of decent sized pumpkins which should provide me enough pumpkin goo (canned pumpkin) to make plenty of baked goods this fall.  For those who have not made their own pumpkin goo the process is very easy…even easier this year with my new food processor (no need to add bit of water to help my struggling magic bullet I have used in the past)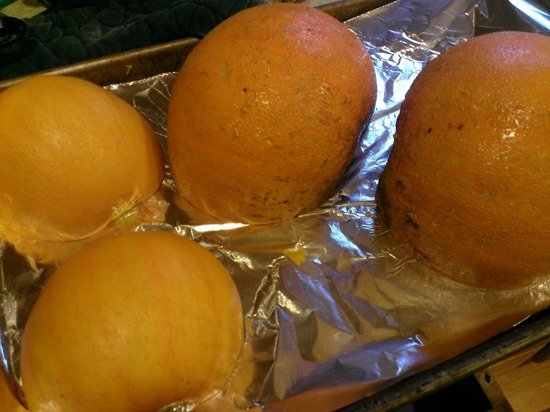 So with about a gallon of pumpkin puree on hand I froze about 3/4 of it by spooning some into silicon muffin cups, freezing for a couple hours, adding to freezer bag and repeat.
With what I had left seemed like a good idea would be pumpkin pancakes which I made this morning with the following recipe.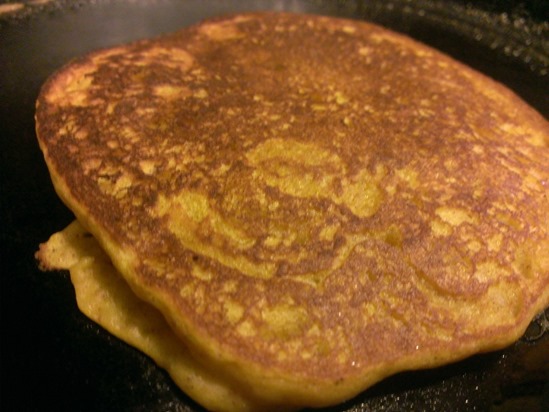 Pumpkin pancakes with pumpkin spice whipping cream
Prep time:
Cook time:
Total time:
Ingredients
1.5 cups milk
1 cup pumpkin puree
1 egg
2 tablespoons vegetable oil
2 tablespoons vinegar
2 cup all purpose flour
2 tablespoons brown sugar
1 teaspoon white sugar
2 teaspoons baking powder
1 teaspoon baking soda
2.5 teaspoons pumpkin spice (1 tsp allspice, 1 tsp cinnamon, ½ teaspoon ginger)
½ teaspoon salt
Instructions
Mix milk, pumpkin, egg, oil and vinegar in bowl.
In separate bowl combine flour, sugars, baking powder, baking soda, spices, and salt and stir until well combined.
Stir flour mixture into pumpkin mixture and mix just enough to combine (over mixing can lead to chewy pancakes)
Heat a griddle or frying/cast iron pan on medium-high heat and pour ¼-1/3 cup of batter into pan and flip when brown and serve.
Notes
For whipping cream simply add ¼ teaspoon of pumpkin pie spice to purchased whipping cream. Or make it yourself with 2 cups of heavy cream, 1 teaspoon powdered sugar, and ½ teaspoon of pumpkin pie spice and whip until you have medium peaks.
1 month ago Uncategorized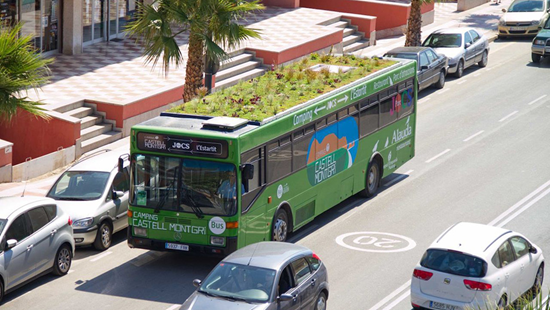 Interesting approach to get gardens in some very interesting places.  The system uses the waste from the air conditioning to water the plants and can provide some much needed photosynthesis in very congested areas in the world scrubbing air as they go.  So sure you prized tomatoes would not survive going 50 MPH down the freeway but a very interesting approach to make use of some otherwise dead space.
Via Gizmodo
1 month ago Uncategorized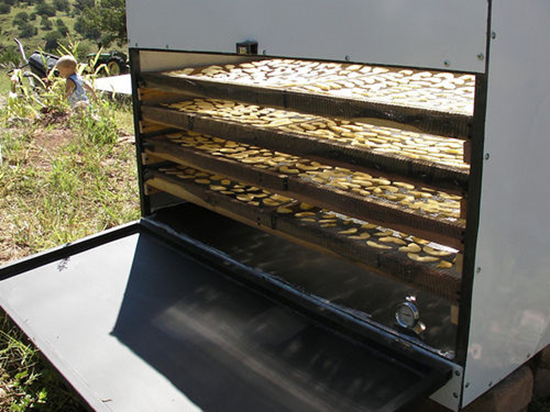 If you're growing your own fruit and vegetables, or just trying to eat the things that are produced locally, you come across one obvious problem: when something's in season, you have more than you can handle, and then there's nothing for the rest of the year. So the obvious solution is to preserve your food when you have it in abundance. Dehydration is an excellent preservation technique that's easy to do and that maintains a lot more of the original nutrients than canning or freezing.
Wanting to get the benefits of dehydrating excess fruits but without the expense of purchasing nor the costs of electricity of powering the thing.  The author had the great idea of building a solar powered dehydrator.  Check the link for full build instructions…
Via Instructables via HackADay
1 month ago Uncategorized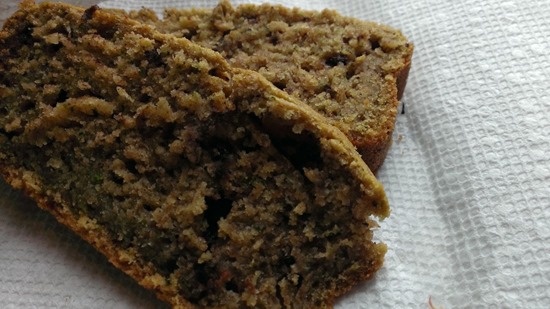 The great thing about growing zucchini in your garden is it is a great producer, but at times you can get overwhelmed with the yields but fortunately zucchini bread is a delicious way to take a care of this problem.  Below is my favorite recipe, typically you would swap out the chocolate chips with something like walnuts but have a kiddo with nut allergies and it is always easier to get kids to eat some veggies hidden in bread when you add a little chocolate

Delicious zucchini bread recipe
Prep time:
Cook time:
Total time:
Ingredients
1.5 cups flour
½ teaspoon salt
½ teaspoon baking soda
½ teaspoon baking powder
2 teaspoons ground cinnamon
2 eggs
¼ cup vegetable oil
¼ cup butter (softened)
1¼ cups white sugar
2 teaspoons vanilla extract
1 cups grated zucchini (one medium zucchini)
⅓ cup chocolate chips
Instructions
Grease one 8 x 4 inch bread pan. Preheat oven to 325 degrees F .
Add flour, salt, baking powder/soda, and cinnamon in a small bowl.
Beat eggs, butter, oil, vanilla, and sugar together in a large bowl. Flour from bowl to the creamed mixture, and beat well. Stir in zucchini and chocolate chips until well combined. Pour batter into prepared pan.
Bake for 45 to 60 minutes, or until wooden toothpick/skewer comes out clean when inserted in the center. Cool in pan on rack for 20 minutes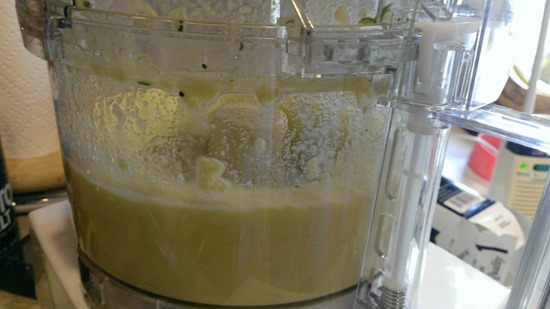 If you own a food processor you can shred the zucchini, switch to the chopper attachment and pulse for 2-3 seconds and remove zucchini into small bowl.  Add wet ingredients and turn on for 30 seconds, add dry ingredients, zucchini, and chocolate chips and run for 5-10 seconds (until well combined) and you are ready to pour into pans and bake to deliciousness.
1 month ago Uncategorized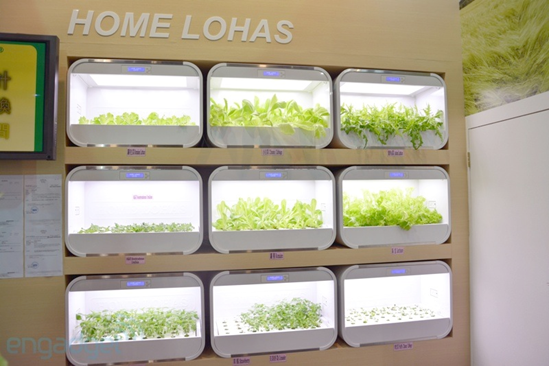 Here are some awesome modular hydroponics setups by Home Lohas.  Pretty much a supersized version of an Aerogarden, they use timers and proprietary selection of nutrient solutions to provide produce without soil and advertised in harvest times with 30% less time.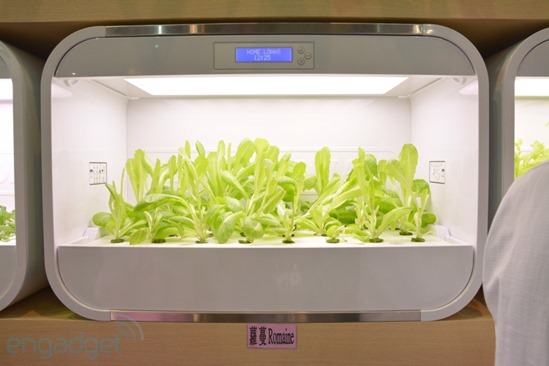 They use a full spectrum LED light system to provide adequate light without running up a huge water bill.  Lights/pumps are completely automated so pretty much a turn key system.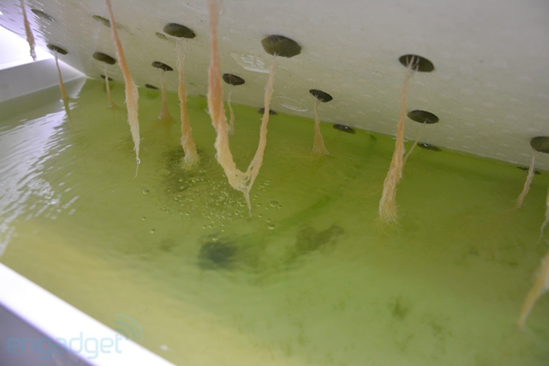 Ok now the bad news the retail cost of one of these bad boys is $530US…so this will not be on my purchase list but is aesthetically pleasing enough I could see my hydroponics move from the garage to the living room if the price came down some.
Via Engadget
1 month ago Uncategorized

Pretty awesome Ikea commercial involving gnomes, fortunately for me I just have one gnome and he is always sleeping.