Archive for the 'recipe' Category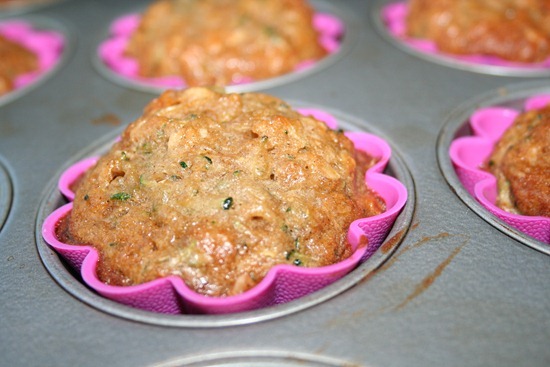 This is the time of year when you have more zucchini in your garden than you can deal with.  You neighbors are closing their blinds when they see you coming up the street, here is a delicious option to make use of some of the fruits of your labor.
You can use this same recipe to make a large loaf of bread, but I like the muffin option since it is easier for my kids to grab a snack without having to pull out a knife to slice it up.
Zucchini Muffin/Bread Recipe
Ingredients

2 cups all-purpose flour
1/2 cup brown sugar (packed)
1/4 cup white sugar
1 teaspoon cinnamon
1/2 teaspoon ground ginger
1 teaspoon baking soda
1/2 teaspoon baking powder
1 teaspoon salt
1 cup old fashioned oats
3 large eggs
2 teaspoons vanilla
2 cups finely grated zucchini (2 medium or 1 large zucchini)
1/2 cup chocolate chips (optional)
Directions
Preheat oven to 350F.
Stir flour, sugars, spices, baking powder/soda, salt, and oats into large bowl.
Combine eggs and vanilla to a small bowl, beat and add to larger bowl
Squeeze out liquid from grated and combine to large bowl until well combined.  Add chocolate chips and stir until well incorporated
Add batter to 9"X5" loaf pan or into 24 muffins.
Bake for 60 minutes (bread loaf) or 45 minutes (muffins) and allow to cool for 10 minutes before attempting to slice/consume.
Tags: recipes
1.5 years ago bok choy, recipe, winter garden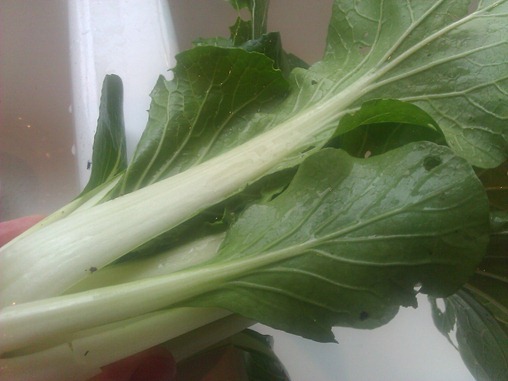 I got my first harvest from my winter garden, I could have given this a couple weeks more but the plants were starting to get crowded.  Not ever cooked Bok Choy I went with the idea that everything is better with bacon and made some Bok Choy with bacon…or maybe could call it Bacon with some Bok Choy.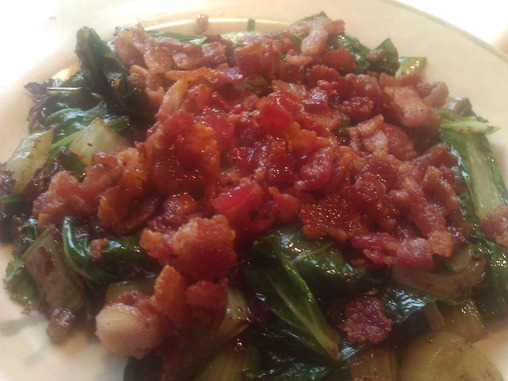 Not only delicious but given its low calorie count (14 calories per 100g) and being high in Vitamin A/C/K and a good source of folates, calcium, and iron.
1.6 years ago pie, pumpkin, recipe
I cooked up another pumpkin to make some more puree to last be though the rest of the year.  This time I used silicon liners which made the removal of the frozen pumpkin pucks a piece of cake.
Last year I made a delicious pumpkin pie with some of this puree, this year I decided to be a little more health conscious and used this recipe for a low carb, gluten free pumpkin pie.  Just as delicious, but with almost half the calories and none of the sugar/carb rush/
1.7 years ago cucumbers, pickles, recipe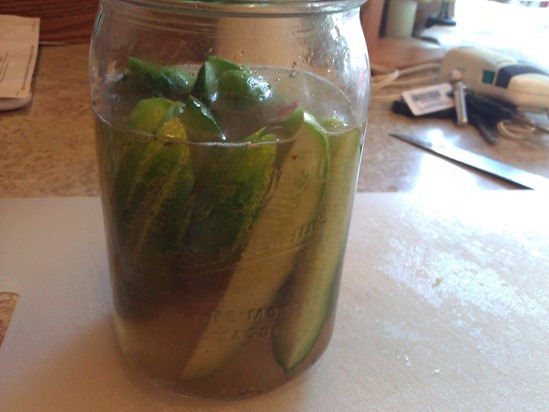 When my first cucumber started to rot in the vine when I was waiting for it to mature, I realized that I grew the smaller variety of which grows 6-8 inch cucumbers which are perfect for pickling to enjoy a nice nutritional snack.  Having a few nice specimens on the vine this afternoon I decided to make myself a few pickles.
Step 1: Clean the pickles.  One of the surprises when I picked my first cucumber a few years back was the little spikes they have on them…you don't see any of those by the time they make it to you in the grocery store.  I quick bit of brushing of your hand should get these off.  Finish this off with a quick wash in the sink and you should have a few clean almost pickles.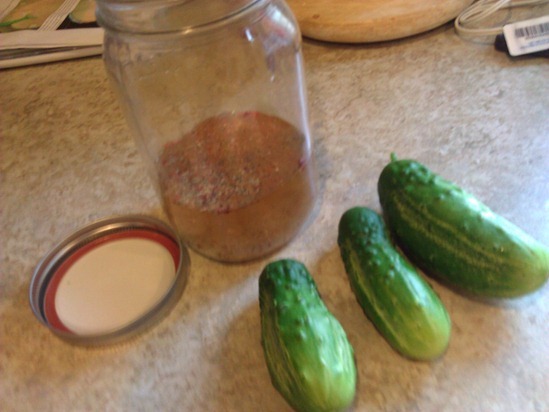 Step 2: Cut the Pickles.  If you have a small variety like mine you can get away with simply quartering (or cutting in sixths if you have an extra girthy one).  For full size cucumbers you will probably need to cut it into two pieces and cut each half into sixths or eighths depending on how large of spears you desire.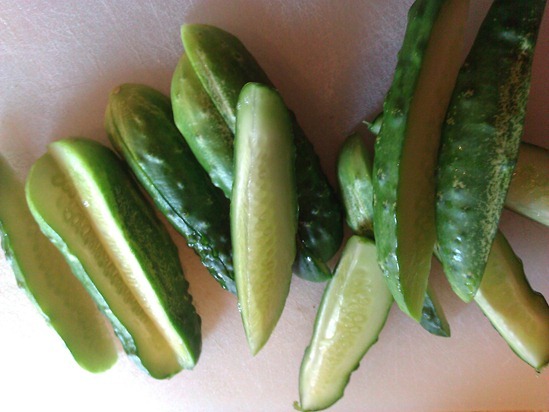 Step 3: Brine the Pickles.  There are many good recipes for brines out there.  Here is my favorite that provides a good balance of sweet/salty/spicy as well as some extra components to have a nice balanced flavor profile.  Simply add the ingredients to a 1 quart mason jar, give it a little shake, then add your cucumbers.  Secure the lid of the jar and give the jar another shake and place in your refrigerator.
My Pickle Brine
1 clove garlic
1/2 cup apple cider vinegar
1 cup water (or enough to cover the pickles)
3 T sugar (artificial sweetener works here)
1/2 tsp salt
1/2 tsp dill
1/4 tsp pepper flakes
1/4 tsp cloves
1/8 tsp cinnamon
1/4 tsp coriander
1/4 tsp mustard seed
1/4 tsp black pepper
Step 4: Wait. This can be the hardest part, you need to wait at least 3 days for your pickles to brine, possible a couple of days more if you needed to add much more than 1 cup of water to cover your cucumbers.
As more cucumbers come in you can simply add them to the jar and have a non-stop supply of incoming snacks…at least until the end of summer.
For something a little more traditional you can also try the following:
Alton Brown's Dill Pickle Brine
5 1/2 ounces pickling salt, approximately 1/2 cup
1 gallon filtered water
3 pounds pickling cucumbers, 4 to 6-inches long
1 tablespoon black peppercorns
1 tablespoon red pepper flakes
2 cloves garlic, crushed
1 teaspoon dill seed
1 large bunch dill
Directions: Same process as above though probably going to have to wait 6-7 days before your pickles are ready and are good for about 2 months.
Now if you want to more about the microbial activity and science behind making pickles, I kid you not below is probably the best explanation I have seen from the historic episode "The Magic School Bus: In A Pickle" and will teach you (or your kids/grandkids) everything and probably more than you would want to know about pickling cucumbers.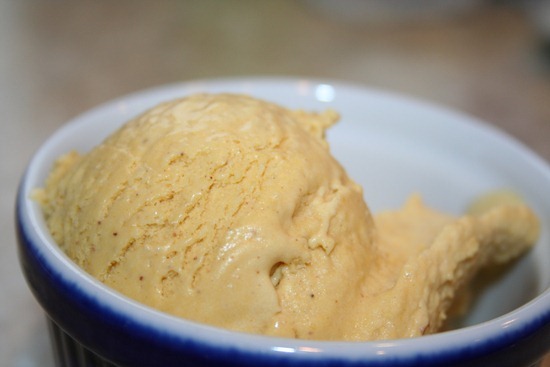 Looking for some more ways to use up some of my pumpkin puree, I decided to make some pumpkin ice cream.  Here is the pumpkin ice cream recipe I used.
Tags: pumpkin
After having an abundance of cooked pumpkin after over purchasing on a couple of organic pie pumpkins I decided to make some pumpkin bread, here is the recipe I have had great success with.